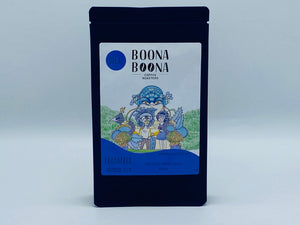 Decaf - Colombia Atunkaa
Our current decaf comes from Siruma who are Colombian coffee company founded 5 years ago with the mission of partnering with underserved farming communities in Cauca, Caldas, and Tolima. The company's name comes from the indigenous Wayuunaiki language and means "Heaven and Skies." Atunkaa comes from the same language and means sleep and sleepy dreams.
Most of Tolima was heavily impacted by the guerrilla war between the Colombian government and the FARC. Much of the land was used to grow illicit crops which brought a lot of violence to the region. Recently, the government started helping families who were willing to get rid of these illicit crops in order to start growing common agricultural crops. Due to this, the region is now almost 100% violence and drug free; switching to a coffee economy that has a big potential.
The coffee is decaffeinated using a sustainable sugarcane-based process. By working directly with the mill and decaffeinator, Siruma ensures fair pricing and complete traceability back to the contributing farmers.
This coffee has lots of dark chocolate, vanilla, spice and rum and is a great example of what can be achieved with careful processing. If you have traditionally avoided decaf we recommend giving this one a try as it could be the one that changes your mind!
Postage
The postage charge on online purchases can be a surprise when you get to the checkout so we think it best to be upfront and let you know the costs before you get that far. -_- -_- Our standard postal charge is £2.49 for all orders up to a value of £25. -_- -_- If you live in BS3 or BS4 postcode areas we offer free hand delivery on orders over £10. -_- If you spend over £25 shipping is free to anywhere in the UK
Adding product to your cart